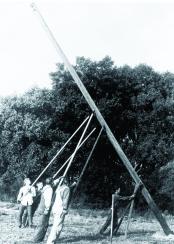 Seventy two years ago there was no electricity available to the rural residents of Baldwin, Bibb, Bleckley, Dodge, Laurens, Twiggs, and Wilkinson Counties. Life on the farm was hard and the nights were dark.
After the Rural Electrification Administration (REA) was established in 1935 by an Executive Order of Franklin D. Roosevelt, wheels were put in motion to bring electricity to this area. A Vocational Agricultural teacher with the Dudley Consolidated Schools, Doyle Bedingfield, along with many interested citizens including T.C. Bobbit, D.O. Lord, Rubert Hogan, and Warthen Chappell donated much time and effort to this project. They felt it would mean a great deal to every other man, woman, and child in this area to receive electric energy. The only thing these men expected out of this organization was electricity for their homes and families.
On November 18, 1938, Oconee EMC was incorporated with J.L. Allen, M.B. Beall, Paul J. Jones, Joseph R. Lord, T. C. Waldrep, Jimmy L. Whitaker and George Ingram named as Directors of the Corporation.
These men held their first Board of Directors meeting on November 22, 1938 and elected the following officers: J.L. Allen as President, T.C. Waldrep as Vice President, Joseph R. Lord as Treasurer and Paul J. Jones as Secretary.
Before the project would be considered feasible by REA in Washington, the Corporation had to secure 363 members over a range of 135 miles and guarantee revenue of $1,034.00. Interested citizens volunteered to take the lead in their community and work the entire section to solicit members and ask for guaranteed revenue. Jim Henry Montford, Jimmy Nelson, Jack Hobbs, Drew Horne, T.D. Bailey, Bill Tyson, Tom Pritchett, J.A. Butler, and T.D. Yancey worked with the original organizers and Directors to meet the REA requirements.
During the first year of this organization, several changes took place. Frank Y. Soles was elected to the Board of Directors replacing T.C. Waldrep. The Board hired Doyle Bedingfield as Coordinator of the project and Carl K. Nelson was named attorney for the Corporation. The first REA loan of $200,000.00 was approved in the summer of 1939. G.C. Ingram resigned from the Board of Directors to become Project Superintendent and a full-time employee of the Corporation. The Board named E.B. Dominy to replace Ingram as Director.
On October 12, 1393, bids from 15 contractors were received and opened. The low bid was awarded to Miller-Baxter Company, Inc. of Indianapolis, Indiana for the building of the first project. On October 16, 1939, negotiations were held with the Bank of Dudley on plans, lease and rental for a new building to be the permanent office for the Corporation. In addition, a stenographer-booker was hired. The Engineering firm of McCrary Company started to survey the right-of-way late in October. In November of that year, actual construction of power lines got underway.
Two hundred and twenty miles of lines were constructed and energized in April 1940 with 446 members being served at the time. The average monthly consumption per consumer was 42 kWh at an average cost of 6.2¢ per kWh.
The Board approved the purchase of a service truck with a maintenance body and R. Hunter Bryan was hired as the first lineman. The first bills were mailed in April of 1940. The minimum bill was $1.00 for 10 kWh. The average monthly consumption per consumer was 42 kWh at an average cost of 6.2¢ per kWh. In May of 1940 a 10% penalty as added to bills not paid within 10 days. On October 8, 1940, Board Secretary Paul J. Jones resigned from the Board of Directors to become Manager of the Corporation replacing Georgia C. Ingram who had been serving as project superintendent. Due to failing health, Ingram was compelled to give up his position as project superintendent and was elected to the Board of Directors.
During the next four years, most all of the members in all the area between the Oconee River and the Ocmulgee River had been signed up for electricity.
Even with this rapid growth, new challenges and problems had to be faced in this decade. Four applications for REA loans were submitted and approved but no construction could get underway because of the war period.
Wire stringing and pole setting almost came to a halt as America geared herself to winning a war after the Pearl Harbor attack on December 7, 1941. On December 24, 1941, the construction of 230 miles of lines were completed and energized with 767 members being served. The average monthly consumption per consumer was 44 kWh at 6.4¢ kWh.
By mid 1942, most of the men in the area had gone to war, leaving a small nucleus to operate the system and erect a few lines to isolated patches of the service area. Despite their limitations, the movement to electrify the area did not die during these difficult years. Those left at home just worked a little harder and many women volunteered their time to promoting the movement.
Finally in 1945, with the Normandy invasion on D-Day, hope began to soar . . . American boys would soon be coming home. America, as well as Oconee EMC, saw a new ray of sunshine.
With the war over, rural Americans resumed the effort to electrify the nation's farming regions. In all the forsaken placed where people were still without power, Oconee EMC continued its dream.
Today, Oconee EMC continues to serve electricity to over 8,000 members with 12,431 meters and maintains 1,904 miles of energized line.